Black XS L'EXCES by Paco Rabanne
. The bottle itself is quite attractive, a small, black cap with a silver skull and a cut out flower charm dangling from a silver choker at the neck of the bottle. I'm not keen on skulls or anything but as I mentioned before, I do like me some charms and will always prefer silver/platinum and white gold over yellow gold. Black is also found at the top of the bottle as it gradually fades from a deep red, to red, to a dark pink, then pink until it becomes white at the bed of the apple shape.
The heights of this scent lingers with pink peppercorns, neroli, black pepper and tamarind flower. The core settles with rose absolue, cacao flower and davana. Yet, the lasting base ingredients are patchouli, black vanilla and cachmeran.
I never wore a fragrance by
Paco Rabanne
before but I have to admit, one whiff of
Black XS L'EXCES
and I was in love. This subtle sweetness lasted all day, making me want to get close to others. I was forced to pry my arm away from my nose every time I had to answer someone at work and caught myself sniffing up and down my arm and wrist until I located the adoring scent which was already tangled in my skin. Once established, I inhaled deeply and sighed satisfyingly. This is a fragrance, without a doubt, would definitely purchase.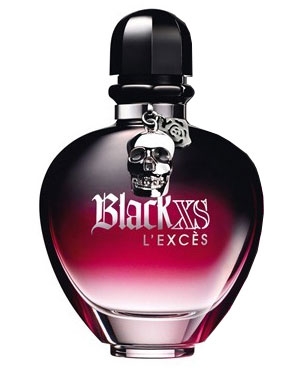 "There is moderation even in excess."
-Benjamin Disraeli