The disappearing act of

Idole d'Armani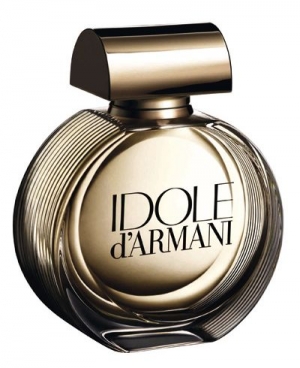 When I originally pulled this scent out of the bag, the corners of my mouth formed a smirk because it was, the one and only

Armani

. Oh yes,

Armani.

Armani

has provided me with nothing but sugary compliments from charming men with long lasting appeal all tucked away in a sensible packaging. That is, of course, until I was exposed to

Idole

. The base notes consists of S

tyrax, Patchouli and Vetiver. R

ose Loukoum and Jasmine with Saffron Absolute, stay cozy in the middle while O

range, Pear, Ginger and Davana notes settle at the top.

My nose and I were warring when I first sprayed this on my newly showered body. The scent resembled too much to liquor with a bang of spice. However, after purposely keeping my senses away from the tequila spots for 5 hours,

Idole

became bearable. The frangrance sank into my skin, for a warm, captivating scent. Alas,

Armani

doesn't disappoint... until another 5 hours had passed. No matter how much I rubbed my nose up and down my arm, the scent wasn't noticeable. It's as if I had never put it on, as if the scent went through its own mood swings. From a violent scream to a soft whisper.
Planning to take on the scream? Just remember to apply it at least 5 hours before heading out and take the travel size with you.
"We live in a moment of history where change is so speeded up that we begin to see the present only when it is already disappearing."
-R.D. Laing